Data Recovery Services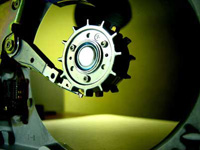 Magic Data Recovery provides data recovery services covering hard drive recovery, laptop data recovery, Mac/Powerbook recovery, external hard drive recovery, thumb drive recovery, flash memory/camera card recovery and DVD/CD/CDRW recovery.
Magic Data Recovery can recover data from
all types of hard drives in any of the following conditions:
Your PC or laptop has crashed or does not start up
The hard drive has been formatted or fdisked
The hard drive makes clicking noises
The hard drive is inaccessible
The primary or secondary hard disk has failed and the system BIOS displays the message "Primary hard disk failure" or "Secondary hard disk failure"
The system displays the error message "boot disk error, insert boot disk press any key to continue"
System displays the message "NTLDR is missing, Press any key to restart"
The hard drive has a corrupt or damaged partition table
The hard drive has become inaccessible due to virus attack or virus infection
The hard drive is no longer recognized by the BIOS after rebooting, despite the platters spinning
The system displays the message "Operating system not found" or "missing operating system"
The BIOS recognizes the hard drive but with garbage parameters
The BIOS recognises the hard drive but the data is inaccessible
Hard drive makes grinding or clicking noises, normally associated with electro-mechanical failure
The hard drive reports bad sectors
Data Wipe and Data Erasure Services: We also dispose of data and make data irrecoverable
We recover data from hard disks from all manufacturers including MAXTOR, SEAGATE, SAMSUNG, TOSHIBA, IBM, HITACHI, FUJITSU, WESTERN DIGITAL. We also recover data from dead or damaged laptops, external USB hard drives, LACIE drives and any other external storage devices.
Magic Data Recovery technicians can recover data from the following faulty hard drives:
Desktop/Laptop/Notebook USB & Firewire IEEE1394, Apple Mac hard disks
Repair / Recover fix Mechanical / Electrical / Firmware Hard Disk drive Problems
Hard Disk Drive not recognised in BIOS
Noisy Hard Drives with clicking, scraping or clunking sound
Hard disks with read/write head crashes
File Repair and/or data recovery from the following file systems:
FAT FAT32 and NTFS file systems; Linux with EXT2fs, EXT3, XFS, file sytems on standalone & RAID volumes; Data recovery from from faulty or corrupt partitions, even if the boot sector or FAT has been erased or damaged; Data recovery from all Win 95, Win 98, Win ME, NT 4.0, Windows™ XP and Windows™ 2000 systems;