Flash Memory/Camera Card Recovery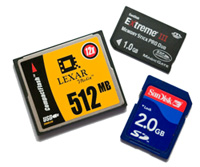 Flash Cards and Digital Media are have quickly become an industry standard. From Digital Photographers of a major magazine, to the everyday consumer who has lost their family vacation photos, we can recover it all. At Magic Data Recovery we understand that different people have different needs. We have the data recovery tools and the expertise to help you with any digital file recovery that you may need.
Digital Photo and Compact Flash Data Recovery Projects We Specialize In:
Overwritten Photo Files
Inaccessible Digital Photos
Disk Reformatting
Virus Contamination
Disk Boot Failures
Incomplete Files and Documents
File Compatibility Errors
Accidental File Deletion and Human Error
Corrupt or Damaged Files
Camera Video and Picture File Recovery
SD card, xD, Pen Drive and Flash Memory Data Recovery
Magic Data Recovery has a team dedicated to the recovery of Flash memory devices. There are many different brands and manufacturers involved in these devices, too many to list here, however the different types of media that we are familiar with are below:
USB Pen Drives/Memory Sticks
Sony Memory Stick (all varieties)
CompactFlash I & II
PC Card
SD Cards (Standard, Mini & Micro)
MMC
XD
And many others…
The similarities with these devices are in the use of NOR/NAND FLASH memory chips alongside a controller. Magic Data Recovery have unique capabilities in the area of reading data from Flash Memory Devices, including USB Memory Sticks and Memory Cards, this enables us to recover data regardless of who assembled and labelled the device, regardless of what manner of system it was used with and regardless of the problem encountered.
Lost photos from a once in a lifetime event and you are worried you may never see them again?
Magic Data Recovery can recover digital pictures and movies from all types of removable media used in digital cameras and mobile phones.