RAID Recovery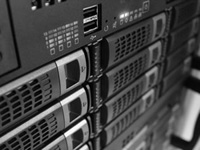 Magic Data Recovery technicians are capable of recovering and repairing inaccessible data from all forms of RAID system servers including: file servers, application servers, web servers, network attached storage RAID systems of any data size.
What is RAID?
A RAID array is a collection of drives which collectively act as a single storage system, which can tolerate the failure of a drive without losing data, and which can operate independently of each other.
RAID storage systems are able to continue functioning even if a hard drive fails. When this happens however, the performance is negatively affected, and the RAID is operates in a degraded or critical state. This occurs because the lost information must be regenerated "on the fly" using the parity data.
When a failed drive is replaced, the data that was removed from the array with its departure, must be regenerated on the new disk by the RAID controller, a process called RAID rebuilding. An RAID array is vulnerable while it is running in a degraded state. Until the failed hard drive is replaced and its data rebuilt, the RAID array provides no redundancy.
RAID systems are susceptible to the same ailments that plague single hard drives, such as viruses, logical problems, human error, and physical damage. Moreover, due to their complexity, they may suffer from additional points of failure, such as lost server registry configurations, accidental RAID drive reconfigurations, RAID controller failures and multiple drive failures. Moreover, it is possible that multiple drives may fail at the same time thus bringing the whole RAID array down. If multiple drives fail, or other serious problems occur in a RAID array, your data will be lost. This is why that RAID data recovery can be extremely complex, laborious and expensive if you do not have a backup of the lost data.
Under such circumstances, if you fail to make a proper backup, you have no other choice other than having to call a RAID data recovery company. Magic Data Recovery will be able to help as we possess all the required technology and expertise to recover data from RAID storage systems and perform a successful RAID data recovery. Using specialized facilities, equipment, and software, we can even recover data from any type of servers or network storage devices or RAID arrays.
RAID Data Recovery Process
We will perform a set of RAID data recovery procedures which includes initial RAID recovery evaluation, where data recovery technicians carefully examine the array to diagnose the exact nature of the problem. During this time, they will also attempt to make an image of the failed hard drives. The RAID data recovery specialists will then extract the data from the image, and will work to piece the whole array together. If successful, they will restore your data onto the media of your choice.
Magic Data Recovery specializes in recovery of RAID Servers including:
SATA RAID Data Recovery
SCSI RAID Data Recovery
Adaptec RAID SATA SAS SCSI Data Recovery
Promise RAID SATA SAS SCSI Data Recovery
3Ware RAID SATA SAS SCSI
Dell Striped RAID Data Recovery
VIA and nVidia RAID Recovery
Buffalo TeraStation Pro NAS 0.6 TB HD-H0.6TGL/R5
Buffalo TeraStation Pro NAS 1.6 TB HD-H1.6TGL/R5
Buffalo TeraStation Home Server NAS 1.0TB HS-D1.0TGL/R5
Buffalo TeraStation Home Server NAS 2.0TB HS-D2.0TGL/R5
Buffalo TeraStation Pro NAS 1.0 TB TS-1.0TGL/R5
Buffalo TeraStation Pro NAS 2.0 TB TS-2.0TGL/R5
Buffalo Linkstation HD-H250LAN
LACIE Ethernet Disk