Server Recovery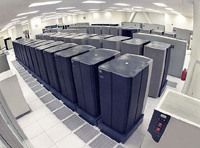 We do Server Recovery by experienced Recovery engineers. Including IAS, Exchange, NT Server, Server 2000, Server 2003, Server 2007, Server 2008 , Data Center 2004, Data Center 2006, Linux Server, Ubuntu, Redhat, Debian, Efinity Server, etc
Magic Data Recovery specializes in recovery of Servers including:
Exchange Server
Single Drive Server
SQL Database Server
Linux Server
Other
At Fields Data Recovery we have specialist engineers that have gained vast experience and knowledge of Servers and as such have all the expertise and knowledge required to recover your data in the shortest time frame.
Our engineers recover lost data from:
File servers.
Application servers.
Web servers.
Direct-attached RAID.
Network attached storage.
Very large storage area network (SAN) systems.
Server data recovery is available for virtually any type of storage system, configuration, and situation:
Any server make, model or brand.
All types of RAID configurations.
Any operating systems (Windows, Linux, UNIX, etc.).
All causes of data loss: including data loss resulting from natural disasters, power loss or surge, logical or mechanical failures, and viruses.
Development for proprietary systems: our worldwide team of developers are always prepared to create bespoke software and tools to handle any proprietary system.
Magic Data Recovery Process for Servers, NAS, or RAID Arrays
Our technicians treat Server and RAID data loss situations as high priority cases. An initial diagnosis determines whether each media device is accessible to our lab equipment. If so, the first priority is to create a raw image of all data from accessible media onto new media so that logical analysis can determine the nature of the information loss situation
If some of the media is inaccessible our lab will test the components and closely examine its internal health to determine the extent of physical damage.
Recovery of crashed RAID and other hard disks often involves replacing failed or damaged components in a clean environment and using specialized hardware and software tools to create the raw image. Failed components typically include electronics, read/write heads, head assemblies, magnets & drive motors.
Logical RAID data recovery uses the raw images of all the server's media by examining the low-level data sectors. Technicians must determine both the exact layout of volumes which span or are striped across multiple drives and what fixes to filesystem structures are needed to get access to the important data.
Multiple-drive servers are typically 'destriped' onto our media so that filesystem repairs can be performed and the data files extracted. Sometimes the existing filesystem structures are missing or damaged so much that data has to be extracted directly from one or more fragments of the destriped image.
Our programmers have created a full set of software tools used by our technicians to analyze, destripe, fix & recover data from raw images drives to virtually all operating systems. Once a recovery has been successfully performed, file lists are created and information validity is checked.