External Hard Drive Recovery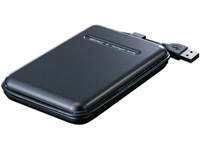 Example Manufacturers: LaCie (eg. Big Disk, Bigger Disk, Bigger Disk Extreme, Quadra etc), Iomega, Freecom, Maxtor (eg. OneTouch), Western Digital (eg. Passport, MyBook), Toshiba, Seagate (eg. FreeAgent)
Magic Data Recovery are able to recover data from any type of external hard disk.
External USB and Firewire hard disks basically consist of a case containing a standard IDE or SATA hard disk with a USB or Firewire interface adaptor. Thus, these units are prone to all the usual problems relating to IDE & SATA hard drives plus some others that the external case and interface may bring. Two of the most common additional problems we have noticed with these drives are:
They get knocked over, dropped, banged etc. In almost all cases, the resulting impact they suffer will cause problems.
They have a tendancy to overheat. This is due to inadequate ventilation on the external case. Some external hard drives don't contain any ventilation at all, a small number of devices may contain a fan inside the actual case to combat temperature build up.
External hard disk drives come in many shapes, sizes and with a number of different interfaces to attach them to your computer, there is an almost endless possibility of device configurations, however they are all based on standard hard disk drive technology as such Magic Data Recovery are perfectly placed to deal with you data loss situation with our Hard Disk Data Recovery service.
Whether you have accidentally deleted files from your device, dropped it, or even if the computer fails to recognize the device when attached, Magic Data Recovery have a data recovery solution for you.
Magic Data Recovery can recover data from all external devices, whether your device was formatted for use under Windows, Mac OS, Linux or some other UNIX variant, Magic Data Recovery has recovery techniques that can get your valuable data back as soon as you require regardless of operating system, manufacturer or the type of data that you require. Our services can help you to recover your lost data when your hard disk has suffered from any manner of failure, this includes:
Electronic Problems on Hard Disks
Clicking, ticking or mechanical failed hard drives
Dropped or physically damaged devices
Water and Liquid damaged storage