Multiple Hard Drive Failure Recovery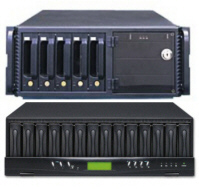 Despite the built-in redundancy and active-failover capability of most RAID architectures, data loss is still very possible. When a RAID array fails, it's important to remember it is the data that is valuable – the hardware is can be replaced quickly and affordably while a data recovery specialist retrieves your lost data from the affected drives.
It is important to understand why and what should be done during an array failure, particularly a multi-disk failure. If only one drive fails, the array will continue to allow read and write access to the data, but if a second drive were to fail on 5 drive system, then all the data on the array could potentially be lost.
Multiple-drive failures do happen and can be caused by component quality issues, recent firmware changes or by environmental factors such as heat and vibration, power surges. If the array develops a problem, do not assume that you will be able to fix it yourself. Hoping the problem will clear up by repeatedly resetting or power-cycling the array can make the problem worse.
Any failed drives must be replaced immediately, but since the array will appear to be working normally, this can easily be overlooked. Until the faulty drive is replaced and the array rebuilt, all the data on the array is potentially vulnerable to a second drive failure.
Magic Data Recovery rescues your data
If the RAID set is quickly removed and handed to a specialist, they will have a better chance of successfully recovering the data. New drives can be installed and the applications are likely to be back on line with less delay. Call Magic data Recovery to recover your important data.
RAID Data Recovery Process
We will perform a set of RAID data recovery procedures which includes initial RAID recovery evaluation, where data recovery technicians carefully examine the array to diagnose the exact nature of the problem. During this time, they will also attempt to make an image of the failed hard drives. The RAID data recovery specialists will then extract the data from the image, and will work to piece the whole array together. If successful, they will restore your data onto the media of your choice.
Magic Data Recovery specializes in recovery of RAID Servers including:
SATA RAID Data Recovery
SCSI RAID Data Recovery
Adaptec RAID SATA SAS SCSI Data Recovery
Promise RAID SATA SAS SCSI Data Recovery
3Ware RAID SATA SAS SCSI
Dell Striped RAID Data Recovery
VIA and nVidia RAID Recovery
Buffalo TeraStation Pro NAS 0.6 TB HD-H0.6TGL/R5
Buffalo TeraStation Pro NAS 1.6 TB HD-H1.6TGL/R5
Buffalo TeraStation Home Server NAS 1.0TB HS-D1.0TGL/R5
Buffalo TeraStation Home Server NAS 2.0TB HS-D2.0TGL/R5
Buffalo TeraStation Pro NAS 1.0 TB TS-1.0TGL/R5
Buffalo TeraStation Pro NAS 2.0 TB TS-2.0TGL/R5
Buffalo Linkstation HD-H250LAN
LACIE Ethernet Disk