DVD/CD/CDRW Recovery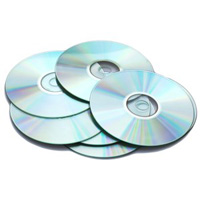 CD/DVD are used as the main source of backup by majority of computer users for their important data such as photographs, videos, and data files etc.Although CD/DVD are very safe source for backup and data can remain saved for years on these optical devices, if care is not taken specially in handling of CD/DVD storage media then important data may be lost due to many reasons such as scratches and marks on CD/DVD.
If you have your important backups on your CDs/DVDs and you are not been able to access you're back up then do not try to recover your backups yourself rather contact us and get free CD/DVD consultation services from our CD/DVD experts.
We have up-to-the-minute and comprehensive software and hardware tools to swiftly recover your misplaced files and folders from the labyrinth of your CD/DVD. We recover CD/DVD data from simple text files to complex digital video files. By using these sophisticated tools our experts scrutinize and rummage around for your missing data the damaged and trashed sectors and clusters of CD/DVD and then copy the rescue data on to the media of your choice.
We support CD/DVD data recovery services for the following types of CD/DVD brands.
DVD
DVD-RW (Rewriteable)
DVD-ROM (Read only memory)
CD-R (Read only)
CD-RW (Rewriteable)
CD-ROM (Read only memory)
Mini CD/DVD being used in digital cameras.
Our CD/DVD data recovery experts can grip each and every tragedy faced by you about your optical storage media:
Unable to access the optical storage media.
Inadvertent, sudden deletion or formatting of discs.
Discs splintered or other physical problems such as scratches, finger prints etc.
During read process operating system gives message "file system not compatible with current version of operating system" OR "disc is corrupted"
Breathtaking noise comes out of the CD-ROM while trying to read the CD/DVD discs
During CD/DVD read all other processes stop their normal operations and goes in suspend state until CD/DVD discs are removed from CD/DVD drive

cache.

CD/DVD opens but can not be accessed or copied.
Data being shown in some other format than the desired one such as audio or video files.
Magic Data Recovery offers free consultation service for CD/DVD data recovery if you are unable to access your backups on your CD/DVD. Our data recovery experts will give you a way of recovering your backup on damaged CD/DVD. We handle data recovery for all sizes of CD/DVD.
If you have lost your backup on your optical media then contact us OR email us.