Raid Recovery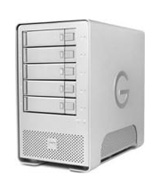 Magic Data Recovery technicians are capable of recovering and repairing inaccessible data from all forms of RAID system servers including: file servers, application servers, web servers, network attached storage RAID systems of any data size.
Data Recovery for All RAID Types
Redundant array of independent disks comes in nine types including a non-redundant array (RAID 0)
RAID-0:
It is often called "Striping". This name is due to the fact that the data is stripped in small portions and spread throughout the disks. Its performance is out class but it is not "fault-tolerant". There is no data protection if one drive corrupts then the whole system goes down. Array capacity is equal to the combined capacity of member disks. It requires two physical disks.
RAID-1:
Level one is called the "mirroring" level since identical data is written on member disks for redundancy. This technique is very useful for quick recovery of data but data entry time is slower. It is very common because of its simplicity and having high data availability rate. It also requires two physical disks.
RAID-2:
It has become obsolete. Lately it was used for the correction of RAM errors which are called Hamming Codes.
RAID-3:
This type also uses striping mechanism but with a difference as there is a dedicated parity disk which contains the parity data. It is not used quite often as its performance is poor while retrieving little amounts of data as in a database. For sequential data requests it performs quite remarkably.
RAID-4:
It utilizes a block level data striping technique with a dedicated parity drive. Array capacity is equivalent to the total capacity of the member disks subtracting the capacity of a single memory disk. It is useful for transactional operations since it can't carry out large file transfers.
RAID-5:
In this type the parity data is written on some or all the member disk drives. It overcomes the write bottleneck inherent present in RAID-4, though parity calculation process remains the only bottleneck. Array capacity is equal to the total capacity of member disks minus the capacity of a single member disk. It highly suits a transaction oriented environment and can be optimized for large sequential access.
With over 20 years combined data recovery experience, Magic Data Recovery has the technical expertise required to solve complex RAID data loss disasters.
Hard drive data recovery becomes more complicated when a failed drive is part of a RAID array making RAID recovery one of the most technically challenging types of data recovery.
RAID Recovery Capabilities Magic Data Recovery utilize advanced data recovery tools and techniques to repair, recover and rebuild inaccessible data from all types of RAID systems and situations:
Any RAID level
Any Raid configuration, Parity and Block Size.
Any Data Loss Scenario – recover data from simple, to the most complex and catastrophic, data loss situations – including logical errors, mechanical failures, and firmware corruption.